By Jenny Contreras, intern contributor, American Red Cross
After the Battle of Endor, Luke Skywalker, Han Solo, Princess Leia and Chewbacca defeated the Galactic Empire and the rest of galaxy celebrated the end of the Galactic Civil War. Without a Sith Lord to strong-arm people into joining the dark side, veteran Rebellion soldiers like Chewie are left with asking, "What's next?"
To restore order in the galaxy and provide compassionate care to those in need, our favorite galactic fuzz ball may want to join an organization like the Red Cross  With over 90 volunteer opportunities, there are several things Chewbacca could do to promote our mission of preventing and relieving suffering, here at home and through out the galaxy.
As a copilot of the Millennium Falcon, whenever disaster strikes, we could use Chewbacca's expertise  to operate our Red Cross emergency response vehicles (ERVs). We imagine it would be a walk in the park compared to navigating space through an asteroid field.
With his incredible mechanic skills, Chewie could fix up a couple of our ERVs and perhaps even upgrade a few of them. At the moment, there is nothing wrong with our ERVs, but wouldn't it be amazing if a hover feature was added to them? With  hovering ERVs, traveling through I-35 in the middle of winter storms would be a breeze.
Since Chewbacca is a veteran himself, on December 29th, he could help out at the Lockheed Martin Armed Forces Bowl and take pictures with other veterans at the Veteran's Village. One thing is certain, no one should play Wheel of Fortune with him at the Armed Forces Bowl, or if they do, it would be wise to let the Wookie win. Everybody knows Wookies are sore losers.
Before the national anthem gets played, we could even have Chewbacca be a presenter on behalf of the Red Cross. Sky's the limit! Although, all he might do is screech his glorious Wookie battle cry.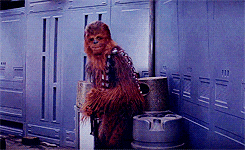 There are many things Chewbacca could do to help us advance our mission. We feel certain that he would use his skills for good.
With early showing of the newest Star Wars film, Episode VII: The Force Awakens, happening tonight, we know that many of you will be spending the weekend with Chewie and the Jedi. So, from the Red Cross to you, "May the Force be with you!"